Kathleen Digby, 80, finds burglar at Westcliff home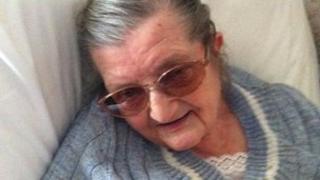 Police are hunting a burglar who was discovered at the bedside of a house-bound 80-year-old.
Kathleen Digby awoke during the night to find the man going through her handbag at her home in Westcliff-on-Sea in Essex.
An image of the man wanted in connection with burglary has been released by police.
Mrs Digby challenged the burglar who fled with her handbag. "I was scared out of my wits," she said.
'Devastated'
"I was sound asleep and he broke in," she said. "He came in here and got down on the floor. With that I woke up and said 'where the hell did you come from?'
"He never said a dickie bird. He stood up straight and looked at me. I said, 'bleeding well get out'."
The intruder, who was white, slim and in his early 30s, was smartly dressed in a white shirt and trousers during the break-in, which happened on 18 August in Mendip Crescent.
Det Con Samantha Winter said: "This woman was left devastated by this burglary, but she is now on the road to recovery and hoping that this man is caught.
"We want people to take a good, close look at the e-fit and contact us with a name so that we can arrest him and provide some form of reassurance to this dear old lady."