Essex PCC election: Concerns over outsourcing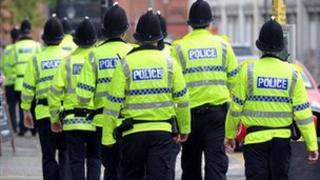 Candidates for the post of Essex Police and Crime Commissioner (PCC) have voiced concerns at any move to outsource services.
This year's budget is £261.9m - £7m less than last year - of which £173.1m comes from the government. The remaining £88.8m in funding comes in the form of a precept paid by council taxpayers. This year that figure rose by £4.58 to £136.70 for an average band D property.
Essex Police expects to reduce its headcount by more than 1,000 as it shaves £42.2m off its budget by 2014-2015.
Neighbouring authorities have looked at outsourcing services to private firms to save money and this could be considered by the new PCC.
'Measure of control'
Conservative candidate Nicholas Alston said: "I would not want or support any outsourcing of front line police services, it is quite wrong and the public don't want it."
He said he supported collaboration to drive forward efficiencies and make a more cost-effective police force.
Independent candidate Linda Belgrove said: "My natural instinct is to say no. We need a certain measure of control." She said she would prefer to see savings through co-operation between police forces.
Labour candidate Val Morris-Cook said: "My view is that privatisation and outsourcing in the police service are wrong. I don't believe it is the right thing to do."
She said many back room functions may also be critical to police investigations and could be compromised by being run by private firms with more commitment to company shareholders than to the public.
The United Kindom Independence Party candidate Andrew Smith said: "If we are talking about the maintenance of buildings, cars or computers, then it is fine to privatise as there may be benefits.
'Dedicated staff'
"I am wholly against private companies being involved in the scene of crime. It seems to me police should carry out this work by commissioned officers as a public service."
Independent candidate Mick Thwaites said: "If someone can prove to me that privatisation or outsourcing produce a better service I would look at it, but I have not seen it yet.
"We would have less control of them and they would have less accountability. There is a dedicated staff in Essex committed to delivering a high quality service."
English Democrats candidate Robin Tilbrook said policing was "about providing a professional service".
"We see too many instances where privatised parts of the criminal justice system are performing inadequately," he said.