Lord Hanningfield: Essex County Council expenses action dropped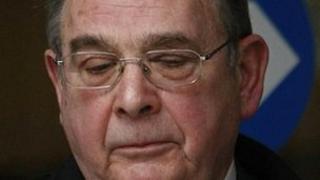 No further action will be taken against former Essex County Council leader Lord Hanningfield, who was jailed for expenses fraud.
The 71-year-old was convicted of falsely claiming £28,000 in parliamentary expenses last year.
The peer, from West Hanningfield in Essex, served nine weeks of a nine-month sentence.
A second investigation was opened into his claims while at Essex County Council.
The City of London Police said no further action would be taken in relation to Lord Hanningfield's time at the county council.
Lord Hanningfield, who was born Paul White, has been released from police bail.
'insufficient evidence'
Lord Hanningfield said he was "relieved that this chapter has closed".
He has called for an investigation into how the county council came to raise its concerns with police.
"My heart sinks to think of the hundreds of thousands of pounds that the council has spent on this exercise through the hiring of expensive lawyers and the time and energy that could have been spent on delivering services for the people of Essex," Lord Hanningfield said.
The allegations were originally made to Essex Police by the county council. They were referred to the City of London force's economic crime directorate in December 2011.
A spokesman for the City of London Police said: "Following a full review of the evidence obtained from this investigation and consultation with the Crown Prosecution Service, a decision has been made to take no further action regarding these allegations as there is insufficient evidence to justify any criminal charges in this case."
Lord Hanningfield was elected to the county council in 1970 and served as leader from 2001 until 2010.
Peter Martin, the current county council leader, said it was important that concerns about the use of the corporate credit card were independently investigated.
"But I agree with Lord Hanningfield that enough time and taxpayers' money has been spent on this," said Mr Martin.
He said he was fully supportive of the way the council's officers had handled the situation, "at what was a very challenging time".