Fire at Grays Wood Products leads to evacuation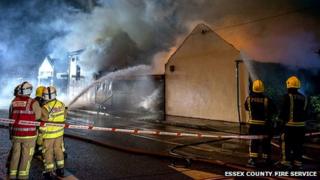 Fire crews and police in Essex are investigating a suspected arson attack which destroyed a wood yard and led to homes being evacuated.
Fifty firefighters worked through the night in "punishing heat and smoke" to prevent the fire in Grays spreading to houses, the fire service said.
Forty people are expected to return to their homes after the fire was extinguished in the early hours.
Crews were back on site at 08:30 GMT to check it was safe.
Grays Timber yard and shop, containing timber products, glues, resins and adhesives "went up in a ball of smoke" at 18:30 GMT on Tuesday, the fire service said.
Fear of collapse
Firefighters inspected the adjoining row of terraced houses to check the fire would not rip through the roof space of the entire block.
Power to the homes had to be cut, with 12 families given shelter in a nearby library.
Meanwhile, crews sprayed jets of water from the window of another terrace house immediately next to Grays Timber on Stanley Road.
"As flames took hold, crews had to be withdrawn for their safety and firefighting operations continued from outside the corner plot," a fire service spokesman said.
The are was cordoned off as it was feared what remained of the building could collapse at any time and spill out on to the road.
Divisional Officer Greg Keys said there was nothing crews could have done to protect the timber yard but, faced with a "real inferno", worked had to ensure it did not spread.
The top floor of the adjoining house suffered as a result of radiated heat and the ground floor suffered heat damage and flooding, he said.