Michael Dabbs saved by springer spaniel in Grays river fall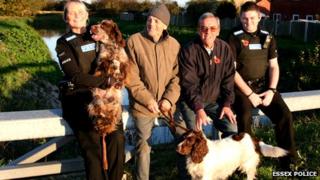 A man who nearly froze to death after he fell into a river was saved by his dog who alerted a passerby to his plight.
Michael Dabbs, 63, was trapped in the river at Grays in Essex for more than two hours.
He was rescued after nearby resident Tony Paxton noticed Mr Dabbs' springer spaniel Smudge acting strangely.
The police were called and Mr Dabbs was pulled from the river with a critically low temperature and taken to hospital.
Mr Dabbs had fallen into the river, which is bordered by an 8ft (2.4m) sloping bank, while trying to rescue his other dog, Ben.
Those involved in the rescue - Mr Paxton and police constables Karen Pownall and Martin Swain - have met up with Mr Dabbs following his stay in hospital after the incident on 26 October.
'My little hero'
Mr Dabbs said: "The trouble started when Ben fell into the river and couldn't get out.
"I went after him and found I couldn't get out," he said. "I didn't realise at the time just how serious it was.
"I am extremely grateful to everyone involved and reckon the police officers did a really good job. Smudge did a good job too. He could have run off but springers are clever dogs."
Mr Paxton said: "He was lucky. This road is normally quiet and on that cold and dark Friday evening no-one else was about."
PC Pownall said: "In this job you help people every day but it was even more satisfying to save someone's life. And as for Smudge - he must have sat at the bridge waiting for someone to come along.
"He's my little hero."