Stansted Airport introduces terminal drop-off charges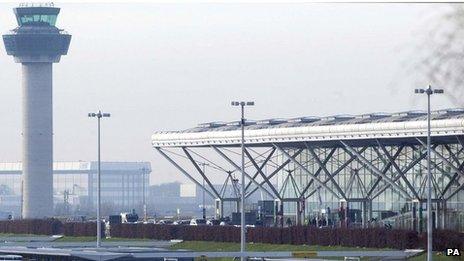 Stansted Airport is to introduce a £2 charge for dropping off or collecting passengers at the terminal doors.
Currently there is no charge with the change due on 9 November.
Drivers dropping off passengers at mid-stay car parks can park for up to 30 minutes for free with travellers using a shuttle to and from the terminal.
The airport said it wants to encourage more people to use public transport to reduce traffic emissions and discourage parking in nearby streets.
It said it is "proud to be the UK's best performing major airport for public transport", with over 49% of its passengers arriving by train, coach or bus.
Marlene Creak from Great Tey, near Colchester, Essex, frequently travels from Stansted Airport and said she was "miffed" about the new system.
She said: "At the moment it's so convenient, someone drops us off and that is it. We may look at going from Southend."
She added she does not believe it will prevent "fly parking", when passengers park in residential streets near the airport, without enforcement officers handing out parking tickets.
Stansted Airport said it had announced the changes in mid-October, with information on its website and a poster campaign in its forecourt.
The new charges are £2 for up to 10 minutes for an "express set down" adjacent to the terminal and £3 for up to 15 minutes.
There will be a £50 fine for drivers exceeding the 15-minute time limit.
Alternatively, passengers can be dropped off at the mid-stay car parks, where their drivers can park for free for up to 30 minutes, or be charged £1 for up to an hour.
Related Internet Links
The BBC is not responsible for the content of external sites.