'Rare' desert wheatear 'accidentally' migrates to Essex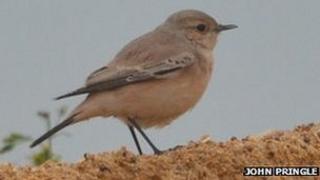 A rarely-seen bird thought to have become lost migrating from Asia to the Arabian desert has set up a temporary home in a large sandpit in Essex.
Staff at the Essex Wildlife Trust said the female desert wheatear was spotted at its Abberton Reservoir centre.
Charlie Oliver from the Trust said only three desert wheatears had been recorded in the county in 100 years.
"She is miles off course but probably thought sand being used to expand the reservoir looked like home," he said.
Bird watchers have flocked to the centre since the desert wheatear (Oenanthe deserti) was first seen on Sunday.
'Too far north'
"Its markings show it's female and it's about the same size as a robin, but it's very rare to see these birds in the UK so it's causing quite a stir," Mr Oliver said.
A spokesman for the British Trust for Ornithology said the lone desert wheatear may have been migrating from western Asia or the Middle East to Saudi Arabia or East Africa.
He said easterly winds had probably blown her about 3,000 miles (4,800km) off course before she landed in Essex.
"She will know she's too far north because of the length of our days. She will probably feed up and head off, but it's unlikely she will make it to the desert before winter," he said.
"She may manage to get as far as southern Spain if she is lucky," he added.
The last recorded sighting of a desert wheatear in Essex was in 1987.