Footballer Nicky Morgan not assaulted at Towie club, police say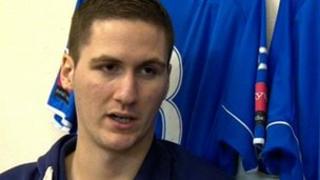 Injuries which left a footballer temporarily paralysed after a fight in Essex were the result of a fall and not an attack, the police said.
Nicky Morgan, then aged 25 and a goalkeeper for Billericay Town, was injured as an altercation took place at a Brentwood nightclub in 2011.
He has made an almost-full recovery. Prosecutors say the injuries were caused by an accidental fall.
A Kent man, 34, arrested on suspicion of assault, will now face no action.
Essex Police said it was called to investigate a fight involving 10 men outside the Sugar Hut, which is regularly featured in the TV series The Only Way Is Essex, in October 2011.
Officers said they were able to look at CCTV images of the incident.
Footballer 'disappointed'
Mr Morgan, who lives in Loughton, was paralysed from the shoulders down, but has undergone rehabilitation after treatment at Queen's Hospital, Romford, and at the specialist spinal unit at Stoke Mandeville Hospital in Buckinghamshire.
He said he was "disappointed" that police had closed the investigation.
"From day one they were pretty optimistic that there would be a charge and we'd get some justice, but over the last month or two they've slowly changed their tune," said Mr Morgan.
"Looking back I still have the same picture of it, but the actual incident is a vague memory. I remember the before and after scenario.
"It's out of my hands and I've just got to be strong-minded and try and put it to one side and get on with my life.
"I can draw a line under it and crack on with my recovery but I'll never be able to work like before and play football again."
The Crown Prosecution Service has accepted there was no offence after extensive investigations showed the injury was caused in an accidental fall, Essex Police said.