Harlow fire deaths: Dr Abdul Shakoor founds 'victims' fund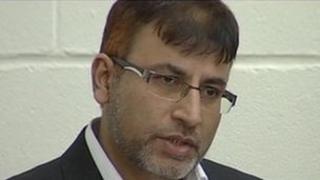 A doctor whose wife and five children died in a house fire is to set up a trust fund for burns victims.
Dr Sabah Usmani, her sons Muneeb, nine, and Rayyan, six, and daughter Hira, 12, died on 15 October in Harlow.
A third son, Sohaib, 11, and daughter Maheen, three, died later in hospital.
Dr Usmani's husband, Dr Abdul Shakoor, the only survivor, announced he would set up the trust in their memory when he spoke at a multi-faith service at Harlow's Princess Alexandra Hospital.
During the service, Dr Shakoor said he had very "limited personal needs" and hoped "something good" could come "out of the tragedy".
'Shared my grief'
"To this end," he said, "and after much thought, I have decided to set up a trust in the memory of my wife and my children which will help burns victims.
"In this very hard time for me and my family, every member of the community, irrespective of their faith, has shared my grief and feelings and provided me with great moral support without which it is not possible for me to cope.
"This incident has also provided me and my family an opportunity to share an emotional bond with many members of our community, working towards a common goal of creating a more tolerant society and making this world a more peaceful place to live in."
It is believed the fire started in the lounge area, towards the rear of the end-terrace house in Barn Mead.
An investigation into the cause of the fire continues.
Police have said despite initial concerns the cause of the fire was suspicious, no accelerant has been found and it is now thought "increasingly likely" that it was a tragic accident.