Essex fire service dispute with FBU is resolved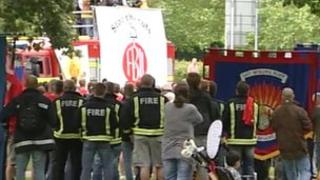 The "longest running" fire service dispute in British history has been resolved after Essex union members reached an agreement with managers.
The Fire Brigades Union (FBU) accepted a deal on terms and staffing with Essex Fire Service on Tuesday evening.
The dispute, which saw a number of strikes during the summer, centred on crew and staffing changes.
Essex Chief Fire Officer David Johnson said: "It puts us in a good position to face the challenges that will come."
"The service will face significant financial challenges over the next couple of years and it is important for us all to focus our energies on the future and learn to work together once again to achieve the best possible outcome for Essex," he said.
Keith Handscomb, of the FBU, said: "This has been a very bitter and the longest running dispute in fire service history.
"Negotiators from both sides deserve credit for overcoming deeply held differences to negotiate the compromise terms needed to settle the dispute and to lay the foundations for rebuilding industrial relations.
"The challenges ahead are huge as the fire and rescue service faces the most severe cuts ever in central Government funding."
It is understood the deal reached includes new terms and allowances, and assurances that the overall numbers of full-time firefighters will be maintained up to March 2015 and beyond as long as Government funding is no less than projected.
The dispute lasted more than three years.