Taxi driver fined for passenger's 10ft wooden pole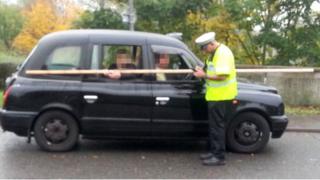 A taxi carrying a passenger holding a 10ft (3m) wooden pole has been stopped by police in Essex.
The black cab was one of 194 vehicles pulled over by the force during a road safety campaign in Basildon.
A spokesperson said the method of transport for the length of stair banister was "incredibly dangerous" and risked harming other people.
The driver of the taxi was given a £60 fixed penalty notice and three points on his licence.
The police spokesperson said: "The woman could easily have lost her grip on the pole and it could have struck a pedestrian, cyclist or gone through the windscreen of an approaching vehicle on the other side of the road."
Nine vehicles were seized in the operation on Tuesday - eight for having no insurance and one because the driver did not have an appropriate licence.
Sixty-two vehicles were found to have no MOTs, 52 drivers were not wearing seatbelts and 23 drivers were seen using mobile phones.
Four drivers were stopped for speeding and more than 20 other motoring offences were detected, including 15 cars with illegal tinting.