Fifty child deaths in Essex 'were preventable'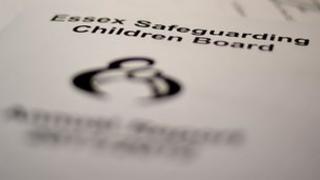 The deaths of 50 children in Essex in the past two years could have been prevented, it has emerged.
The Essex Safeguarding Children Board (ESCB) was notified of 232 child deaths between 2010 and 2012.
Of the cases reviewed, 50 were deemed to have been "preventable".
Children's charity the NSPCC has called on all organisations involved in protecting children to ensure budget pressures did not put safeguarding work "in jeopardy".
Preventable deaths include accidents, such as road traffic collisions, health-related, such as those caused by passive smoking, and neglect or abuse cases.
There were 29 preventable deaths in 2010/11 and 21 in 2011/2012.
The board was also notified of six deaths of children who died in the county but were not from Essex.
'Extremely difficult'
Two serious case reviews were launched by the board in 2011/2012, which brings together a number of organisations including police, schools and councils. One of the reviews involved the death of a child, the second concerned a child who was seriously injured.
The NSPCC voiced concerns about budget pressures amongst organisations involved in protecting children.
Dan Russell, head of services for children and families for North London and East of England region at the NSPCC, said: "Both statutory and voluntary organisations are continuing to face extremely difficult financial challenges so it has never been more important for us to work together to support and protect vulnerable children in our communities.
"We need to make sure safeguarding priorities aren't put in jeopardy by financial pressures and that vulnerable people in the community are protected in the best way possible."
But the Essex safeguarding board's manager Alan Critchley said organisations treated child safety as "sacrosanct" in terms of funding.
"Everybody is looking very carefully at their budgets and how they can use their budgets together to avoid duplication," he said.
Examples of preventable deaths in recent years in Essex, he said, included that of a child on the A12 who was sat in a car seat which was positioned the wrong way around.
"After every death of a child there is a review," he said. "Sometimes we cannot learn anything from it, but often we can."
He said two children had died nationally after strangling themselves on the cords of Venetian blinds. As a result, all blinds sold now carried a safety warning.
'No room for complacency'
Board chairman Simon Hart, in his introduction to ESCB's annual report, said 2011/2012 had been a "challenging year".
"The board is very aware of the challenges facing statutory services and partner agencies," he said, "and is confident that the strengthening partnership arrangements will be able to maintain a focus on priorities and safeguarding in particular.
"However, there remains no room for complacency."
A spokesman for Essex Police said officers worked both to improve safety awareness amongst children, for example by visiting schools, and to make them safer on the roads by targeting adults breaking the law.