Stansted Airport trials new security body scanner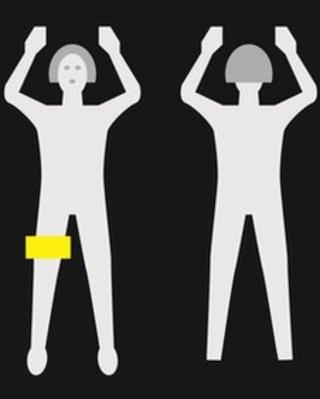 Body scanning of some passengers is to be trialled by Stansted Airport in a bid to improve security.
The technology, which will be introduced on Thursday, aims to detect any concealed threats or contraband.
It will alert staff at the Essex airport through an image which appears as a mannequin-like figure on a screen.
Passengers who set off an alarm on the traditional metal arches will be asked to go through the scanner arch. If they refuse, they will not be able to fly.
The scanner was designed to provide an additional and less intrusive method of security and should reduce the need for pat-down searches, the airport said.
It uses radio wave technology and not X-rays, and is safe for pregnant women, people undergoing medical treatment or those with medical implants.
No images would be saved or be able to be retrieved at a later date, the airport said.
John Farrow, Stansted's head of terminal, said: "Providing a safe and secure airport for all our users will always be the highest priority but the introduction of this quick, effective and safe scan will also significantly improve the passenger's experience of security searching and provide maximum protection of privacy."
The scanner is in use at other UK airports, including Heathrow.
The trial is due to run for three months.