Chelmsford food bank defends Champagne launch event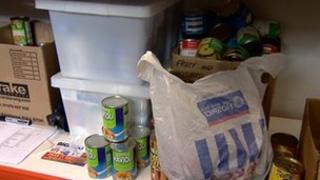 An Essex food bank that helps needy people has defended its decision to host a Champagne buffet at its launch.
Chelmsford Foodbank opened in July 2012 but is holding its official unveiling on Friday evening.
Guests, including city mayor Christopher Kingsley, will be served "Champagne and finger food" on arrival.
A spokesman for the project's parent organisation said the Champagne had been paid for by a local church, not from charity donations.
The launch of the Chelmsford Foodbank is being held at Waterfront Place, Wharf Road.
'Irony'
Simon Burns, Conservative MP for Chelmsford, said: "I welcome the launch of the food bank. It's an excellent initiative.
"I'm slightly surprised, though, that the organisers don't see the irony of, according to their press release, serving Champagne and finger food at the launch of the food bank."
Adrian Curtis, food bank network director for the Trussell Trust, which has 270 food banks across the UK, said: "The Champagne has been funded by The Oasis Church as a reward for the volunteers.
"When a project launches, people put in quite a bit of work and this is a nice way to consolidate that and reward them."
He said the finger buffet was being offered out of courtesy to guests.
"People will be coming to the launch from quite a few organisations. The event is straight after work and many people will not have eaten.
"We recommend all our projects are sensitive and use their resources appropriately. What we are here to do is feed people who are hungry."
The trust's food bank network has fed almost 110,000 people since April, compared with a total of 128,697 in the whole of 2011-12.
The charity expects to feed more than 200,000 people in 2012-13 and is opening a new food bank every three days.