Dale Farm: Basildon Council considering further action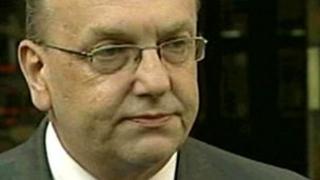 Travellers removed from the Dale Farm site in Essex have been warned the eviction process will continue over their new camp just yards away.
It is a year since Dale Farm, Europe's largest illegal traveller site, was stormed by hundreds of riot police.
The cost of the operation was £7.2m and about 80 families were moved from the land.
Caravans were prevented from returning to the site by earth banks and a court injunction.
However, more than 100 travellers simply camped in a private access road, just yards from their former homes.
Others have moved on to legal plots elsewhere on the site, in breach of their licences.
'Spend what it takes'
Basildon Council leader Tony Ball has denied the operation was a failure, saying he could not turn a blind eye to law-breaking.
"I am prepared to spend what it takes for people to comply with the law," he told BBC Inside Out East.
"I wouldn't say it is an open cheque book, but I am saying what is more important is that the law is upheld and it is up to the local authority to apply that law."
Kathleen McCarthy is one of the travellers ignoring a new eviction notice and continuing to break the law.
"I don't think it is out of stubbornness because being stubborn isn't going to help anything," she said.
"The reason we are still here is that we are still living in the hope that there might be a site built. After spending £7m they might think to themselves what further can we do, we got them two or three feet."
Travellers complain they face a bleak winter camped in the lane, with deteriorating sanitation and sickness.
The British Red Cross is acting as an intermediary in negotiations with Basildon Council.
'Significant concerns'
Humanitarian officer Ben Stickley said: "We still have significant concerns about conditions, illness, kids playing in what is a very dangerous environment.
"There is plenty we can do to make a difference," he said. "We very much would like to keep working with the residents and the council to really try to resolve those as best we possibly can."
Residents living in nearby Crays Hill, who have complained about breaches of planning law at Dale Farm for the past 10 years, have said the travellers are taking advantage of the legal system.
Basildon Council says it will return the illegally-developed land, which is still owned by the travellers, back to the green belt.
So far it has been unable to recoup any costs from the travellers.
Soon the council is expected to decide whether to send in the bailiffs again, or seek further injunctions against those camped in the access road.
For now, the stand-off at Dale Farm continues.
Dale Farm, a year on, is on BBC1 in the eastern region on Monday at 19:30 BST.