Essex couple tear down walls in 'beeping sound' search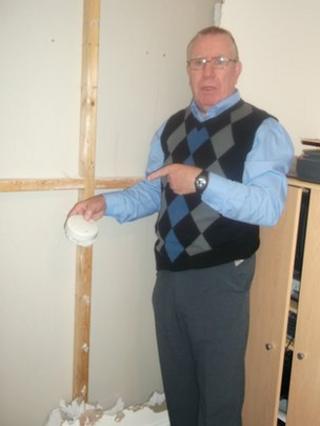 A retired couple driven to despair by a constant beeping sound ripped out walls in a bid to find the cause - only to find it was from a smoke alarm buried in a chest of drawers.
Paul and Jeanette Henry, of Frinton, Essex, are facing a bill of hundreds of pounds to replace the plasterwork.
Mrs Henry, 68, said she was "absolutely amazed" when they found the culprit - a 10-year-old smoke alarm in an old desk.
"We were tearing our hair out," she said.
The couple, who first heard the beeping a year ago, said they had called out electricians to try to find the cause.
The beeping eventually stopped during the summer.
'Getting silly'
However, on returning from holiday a fortnight ago, they discovered the beep had not only returned but it was now going off every 30 seconds, night and day.
"Paul took up all the floorboards in the attic but it was getting silly," said Mrs Henry.
"I was even going round listening to all the grandchildren's toys in case a battery was wearing out.
"We had to do something as we were getting desperate; we weren't getting any sleep."
Another electrician suggested a "mischievous builder" might have dropped an alarm between two plasterboard walls so builders were called to knock them through.
They did not find anything.
"We were tearing our hair out, we now had two gaping holes and there was still this blessed bleep," said Mrs Henry.
Eventually Mr Henry, 67, a retired print worker, decided to turn all the lights off upstairs and try to locate the sound in the dark.
He followed the noise to an old chest of drawers on the landing and, as he opened the desk, the sound got louder.
Mrs Henry said: "Right at the back he found a smoke alarm, which must have been about 10 years old, whose battery was running out and bleeping away quite happily to let us know.
"We couldn't believe it, we were absolutely amazed, but really relieved, although we still keep thinking we can hear it."