Stranded men rescued from car roof in Little Baddow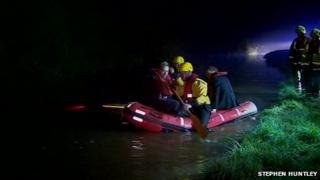 Two men ended up stranded on the roof of their car after they drove into a ford in Essex.
The fire service was called in at 00:13 BST to Hammond Road in Little Baddow, near Chelmsford.
When they arrived, they found the pair on the roof of their Range Rover which was in 4ft (1.2m) of flowing water.
The crews from Chelmsford, Waltham Abbey and Southend donned life jackets and used an inflatable boat to get the men back on dry land by 01:11.
'Cold and misty'
An eyewitness to the rescue, who asked not to be named, said: "When I turned up I could see two men on the roof of the Range Rover.
"There was a police helicopter flying overhead to illuminate the scene because it was so dark.
"A boat was brought up alongside the car and you could see fire engines in the distance," the witness added. "I could see one of the men shivering, it was cold and misty.
"They brought the boat alongside and one of the men - as he was being transferred into the boat - slipped on the windscreen and he looked like he hit his head quite badly.
"I could see a bruise to his cheek."