Brian Wall passes ocean diver scuba course at age of 74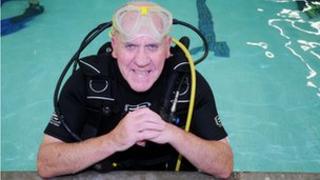 A grandfather from Essex has become one of the oldest ever to qualify as a scuba diver.
Brian Wall, 74, lives in Basildon, and decided to learn diving with his daughter Jackie and 13-year-old grandson Sean.
Of the three, the retired systems engineer was the only one to complete the British Sub Aqua Club's (BSAC) sport diver course.
In gaining the award, Mr Wall has become BSAC's oldest qualified member.
Mr Wall, a father-of-two with three grandchildren, hopes to continue diving and earn the sports diver qualification.
Explaining his reasons for taking up the sport, he said: "I've got my daughter, Jackie, to thank I suppose.
'He's crackers'
"She came back from a holiday in Antigua desperate to give diving a try after seeing such wonderful marine life while out snorkelling just off the shore," he said.
"Jackie's son, Sean, was also keen to learn too," he said. "We went together, to Pitsea Pool in Essex, and gave diving a try."
He said: "Unfortunately my grandson, Sean, had problems with his ears and couldn't carry on and Jackie stopped too - but I thought I'd like to give it a good try.
"So I stayed at it and, after just over a year, I managed to finally qualify," said Mr Wall. "If something is a bit scary or difficult I just like to give it a go."
Mary Tetley, chief executive of BSAC, the national governing body for diving, said: "Brian is a wonderful example of how almost anyone can learn to scuba dive and enjoy it when they put their mind to it."
Mr Wall's wife of 50 years, Patricia, said: "He's crackers. I've given up with him to be honest. The thing is if he's happy diving then that's great and I'll support him all the way."