Early girlfriend of John Lennon tells of cinema meeting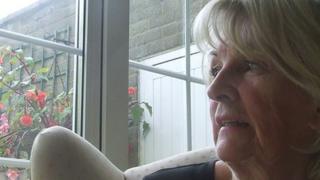 Pat Clark remembers vividly the moment two teenage boys leapt over cinema seats to join her and a friend during a movie.
The boys sat down on either side of the two girls.
The 16-year-old who chose to join Mrs Clark had a keen interest in art and music. His name was John Lennon.
They struck up a relationship which lasted a number of weeks until Mrs Clark decided she was too "sensible" for the young Lennon.
The movie house where they met was the Abbey Cinema at the top of Picton Road in Liverpool.
'Wasn't shy'
Mrs Clark (nee Witham) was 16 at the time and six months older than Lennon.
She lived in the Childwall area of Liverpool and he lived in Menlove Avenue. He was yet to go off to art college while Mrs Clark was already in training as a shorthand typist.
Speaking on the 50th anniversary of the release of The Beatles first single 'Love Me Do', Mrs Clark told BBC News the moment she met the future Beatle.
"There was clambering over seats and then there was this guy sitting by me and the other guy was sitting next to my friend Sheila," she said.
"We walked out with them and he introduced himself as John," she said. "He wasn't shy and he didn't speak rubbish. He was quite intellectual.
"We got to know each other, we kissed a couple of times and we used to go to Calderstones Park. We did that for a few weeks," said Mrs Clark, who moved to Billericay in Essex 35 years ago with her husband Rollo.
But she never took Lennon home to meet her parents. "My dad told me he didn't want to meet any Tom, Dick or Harry," the mother-of-three said.
"I was a sensible girl," she said. "He was a bit of a messer. I felt he did not really want to be with a sensible girl. And I am 'Mrs Normal'."
One day, in Calderstones Park, Mrs Clark said to the young Lennon she would see him there in four years' time.
She never saw him again.
'Better looking'
Mrs Clark married at 20 and got a job at the firm Joseph Lucas in Liverpool's Bowring Park Road. One day, she opened a copy of the New Musical Express and there, staring back at her on the page, was her former boyfriend and a band called The Beatles.
Mrs Clark said she felt pleased for him but felt her own life had already moved on. "He had achieved what he wanted to achieve," she said. "Besides, my husband is a lot better looking."
Contacting Lennon was something Mrs Clark never thought of doing.
After leaving Liverpool, she forged a successful career as a shorthand typist and personal assistant for major London financial institutions while her husband worked for the car giant Ford.
As The Beatles soared, she would occasionally mention her relationship with Lennon to a trusted few.
But then, in 1980, her memories of Lennon came flooding back.
That was the year Lennon was fatally shot in New York as he returned to his apartment building with wife Yoko Ono.
When Mrs Clark learned of the news, she was "devastated".
"I knew him," she said. "It was awful."
When the shock passed, the fond memories of a young "intellectual" returned.
And they continue to share something in common - both have sons called Julian.