Essex £6m meals on wheels 'mistakes' apology from council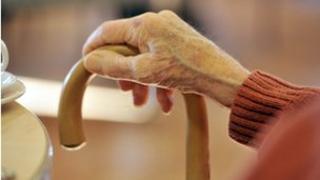 Essex County Council has apologised after hundreds of vulnerable people received meals on wheels cold or late under a new £6m contract.
The new county council contract with Sodexo started this week and in the first two days 350 meals arrived late.
The Sodexo contract replaces the previous five-year deal with the WRVS, which was worth £15m.
Both the Conservative-run county council and Sodexo have apologised for the problems.
'Heart breaking'
Hazel Jeffery said when her elderly mother's meals on wheels lunch arrived both stone cold and late on Tuesday, she was left in tears.
Mrs Jeffery said receiving the meals on wheels service had been the first time her 90-year-old mother had ever had to rely on anybody.
"She was crying," said Mrs Jeffery. "It was heart breaking. To see how upset she was by this episode makes me seethe with frustration.
"Knowing she has a hot meal at lunchtime is vital for both of us," Mrs Jeffery said.
Bob Kilvington, whose father-in-law receives meals on wheels in the Chelmsford area, told how on Monday the meal that was meant to arrive between 11:45 BST and 13:45 finally arrived at 16:20.
"He lives alone, he's confined to the house and he's dependent on carers and meals on wheels," said Mr Kilvington. "Without those, he can't survive."
Peter Martin, leader of the county council, said: "One late visit is unacceptable. We apologise for the mistakes and late deliveries that have taken place to date.
"We are doing everything we can to put this right."
Problems with ovens and vans were partly to blame, said Mr Martin.
Asked how the quality of the meals on wheels service could be maintained under a contract worth £1m less, Mr Martin said it was a "different type of contract".
He said rather than meals being cooked at base and then taken out, Sodexo was cooking meals en-route in a van-based oven which meant lunches were ready when the drivers arrived.
He said quality was more important that contract price for the county council, and in deciding who to award the contract to, the authority had placed 60% of the emphasis on quality and 40% on price.
County council staff are now travelling out on the vans with Sodexo drivers to monitor the situation, said Mr Martin.
A Sodexo spokesperson said: "There were improvements yesterday [Tuesday], but the new service is still bedding down and we can only apologise again to those affected by delays and to their families.
"We will continue to make resolving the issue of late deliveries in some parts of the county our top priority."