Dartford Crossing toll rise 'outrageous' says council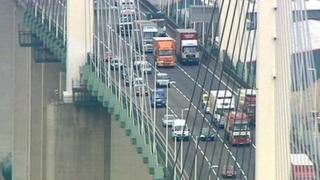 Planned Dartford Crossing charge increases of more than 30% have been criticised as "nothing short of outrageous" by a council leader.
From 7 October, car drivers will pay an extra 50p per crossing as the toll rises 33% to £2.
The price rises have been criticised by business groups and those in local government.
The government defended the increases, saying the extra revenue will be spent on upgrades.
But John Kent, the Labour leader of Thurrock Council, said: "I think the increase is entirely unjustifiable.
'Outcry'
"I understand the government is short of cash, but so are local businesses and so are hard-working families."
He said further price increases planned for 2014 time would mean an overall increase of 66%.
"There would be an outcry if we put up parking charges by that much," he said. "I think it is nothing short of outrageous."
Alan Jefcoate, of the Essex branch of the Federation of Small Businesses, said: "We were all told that by 2002 when the bridge was all paid for it would be free."
Road safety minister Stephen Hammond said the extra money raised would go on upgrades needed at the crossing and also towards planning for the future.
He said the idea behind the changes was to improve traffic flow and reduce delays.
By 2014, he said, there will be "free-flow charging" with toll booths and barriers replaced with cameras - similar to those used for the London congestion charge.
The government is also looking at the possibility of a new crossing in the Lower Thames area.