Basildon Hospital at centre of medical waste probe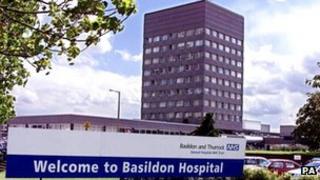 An investigation is under way into how clinical waste - including needles - was sent from an Essex hospital to a recycling centre.
The medical materials from Basildon Hospital were spotted by Veolia staff at their recycling centre in Basildon.
The Environment Agency has opened an investigation into how the items ended up in general waste.
The hospital said the "mistake" was now subject of a "serious incident investigation".
Basildon Hospital would not reveal exactly what items - or what quantity - of medical waste had ended up in the general waste.
However the trust did confirm "sharps" - which include needles and other sharp items - had been involved.
A spokeswoman for the hospital said the error was spotted by waste contractors Veolia who found medical waste at their recycling centre in Basildon.
She said: "Our waste manager, along with up to nine other members of staff from our facilities team, will be working in partnership with Veolia to sort the problem.
'Human health'
"Normally sharps are incinerated via a separate contractor," she said. "The different types of products we use at the hospital must be disposed of correctly so there are different types of waste bins across the hospital sites (general, clinical and infectious, anatomical, offensive, sharps and recycling).
"Since these mistakes came to light, we immediately began carrying out extra visual checks, and are in the process of retraining all staff on correct waste disposal," the spokeswoman said.
"We take waste disposal and our environmental responsibilities very seriously and at the moment 60% of our general waste is recycled."
A spokeswoman for the Environment Agency said: "We have received reports and are investigating the destination of waste from Basildon Hospital.
"Regulations are designed to ensure that different wastes are dealt with in appropriate ways to protect the environment and human health," she said.
A spokesman for Veolia Environmental Services said the firm was taking the matter "extremely seriously".