Colchester United accused of 'foul language' at centre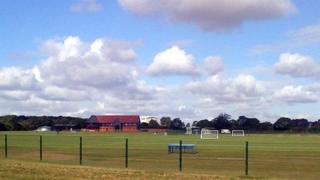 A League One football club has been accused by an MP of breaching planning rules and upsetting neighbours with "noise, disruption and foul language".
Colchester United can only use its training ground in Tiptree from 10:30 to 13:00 Monday to Saturday.
Priti Patel, MP for Witham, told the House of Commons the facility was "being used outside the hours agreed".
The club's director, Robbie Cowling, said claims of bad language were "grossly exaggerated".
Ms Patel told the House on Tuesday the centre was being used beyond the permitted hours, and said "noise, disruption and foul language" were distressing to families.
She said: "They are forced to keep their windows closed and stop their children playing in the garden due to the noise and the bad language shouted out in the training ground."
Ms Patel also accused Colchester Borough Council of failing to enforce planning conditions on the training ground.
Robbie Cowling, chairman of Colchester United, described Ms Patel's comments as "nonsense and unfounded".
"I can categorically say I've never heard bad language down there," he said.
He said although he was "not saying it doesn't happen at all", he felt those who had complained had "grossly, grossly exaggerated" the problem.
Asked whether the club was in breach of the planning conditions, Mr Cowling said: "We are acting outside of what was agreed.
"We've applied for a change in hours of use. And the advice we've received is when you make a change of use [the council] don't enforce the rules until we have a decision."
Tim Young, the Labour cabinet member for planning at the borough council, said the authority was investigating complaints.