Term time holiday fines rise 400% in Essex schools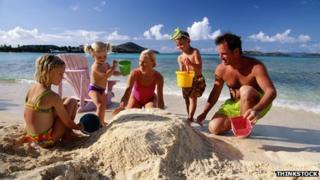 The number of Essex parents fined for taking their children on term-time holidays has risen more than 400% in the past five years, figures show.
Parents wanting to take their children away during term time have to seek permission from their school's head teacher.
If parents take children out of school without permission, they can be fined by Essex County Council.
The number of fines issued has risen from 51 in 2007/2008 to 261 last year.
The figures released to BBC News show the income from unauthorised absence-related fines has risen from £2,300 in 2007/2008 to £7,900 in 2009/2010 and to £9,050 in 2011/2012.
The number of parents taken to court for removing their children during term time has risen from just one in 2007/2008 to 12 last year.
The total number of term-time holiday requests received in the county's schools is not known, because they are dealt with by individual head teachers.
A spokesman for the county council said it only issued fines if asked to do so by schools.
Stephen Drew, head teacher at Brentwood County High School, said: "I understand the issues of cost - I am a parent too.
"But we will not authorise term-time holiday unless in exceptional circumstances," he said. "Education is the most important thing."
Mr Drew, who previously starred in the Channel 4 documentary series Educating Essex, said he believed the number of people asking for term-time holidays was "significantly lower than it used to be" - despite the increase in penalty notices and legal action.
He said a child with a 90% school attendance history would, by the end of five years, have missed half a school year.
'Potential solution'
Anthony Peltier, head teacher at Stifford Clays Junior in Grays, said he also favoured a tough stance on term-time absences.
But he said he knew of some head teachers who took a more lenient view on parents asking for holidays.
He urged the travel industry to work with schools to make it less cost effective to take holidays during term time.
Clare Banham, spokeswoman for the travel industry association ABTA, said: "This is an issue of supply and demand, more people across Europe, not just in the UK, want to take holidays in July and August, at Easter and at Christmas, therefore prices rise during these times.
"School holidays take place traditionally at these times of high demand and exacerbate the price differences.
"Package tour operators are the most family friendly sector of the industry offering free child places for early bookers and lower fares for children.
"Abta believes that the only potential solution for this issue would be for schools to stagger the dates they take their holidays and allow breaks in periods of lower demand such as May, June or September when the weather is still good."
Neighbouring Thurrock and Southend councils do not issue penalty notices for unauthorised term-time absences.