Jay Whiston death: Facebook and Twitter 'played role'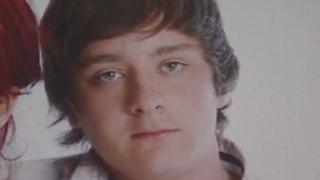 Messages sent on Facebook and Twitter played a "significant role" in events leading to the death of a 17-year-old boy, detectives have said.
Police are hunting for the weapon used to kill Jay Whiston, of Clacton, at a party in Colchester on 8 September.
Det Ch Insp Simon Parkes, of Essex Police, said the use of social networks was "significant" before and after Jay's death.
Five teenagers have been arrested and bailed on suspicion of Jay's murder.
A post-mortem examination found Jay, a student at Tendring Technology College, in Frinton, died of a stab wound to the heart.
An inquest into his death heard up to 150 children aged between 15 and 17 had been at the house party in Marlowe Way at which Jay was killed.
Det Ch Insp Parkes said: "Many of the teenagers have given accounts of what happened on that Saturday night. These boys and girls are clearly key witnesses, crucial to our investigation.
"We have arrested five people and cannot rule out arresting others. We are very much dependent on those who attended the party and those who subsequently heard about what happened coming forward."