Essex 'lion' hunt: £3,600 spent on search helicopters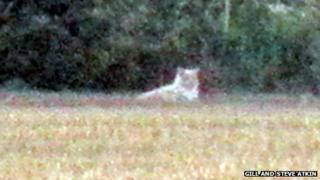 Police dispatched more than 30 officers and spent more than £3,000 on helicopter time in their hunt for the "Essex lion", it has emerged.
The search for a "lion" seen in St Osyth, near Clacton-on-Sea, began at 18:58 BST on 26 August.
Despite a police search of the area, no lion was found and the operation was called off the next day.
Essex Police said 31 officers took part in the search, overtime was paid and £3,600 was spent on helicopters.
One possible explanation for the sighting was provided by Ginny Murphy, of St Osyth, who claimed the animal spotted was her pet cat, called Teddy Bear.
The constabulary, in responding to a BBC News Freedom of Information request, said it did not know how much in total the search for the "lion" had cost.
However, the force has confirmed 31 police officers were "deployed at various times during the incident".
An incident command team was also set up to oversee the search.
The police said "some overtime" had been paid, but the total sum had not been recorded.
The police spokesman said the Essex helicopter had been used for about two hours, at a cost of £600 per hour. The Suffolk police helicopter was also drafted in for four hours to help in the search, bringing the total spent up to £3,600.
Further details of the investigation have also been released.
Footprints
Police said four members of the public had reported seeing "a lion" within the first hour of the investigation.
A photograph of the suspected big cat was also received by police and shown to staff from Colchester Zoo.
A spokesman for Essex Police said zoo experts "were not able to discount the animal being a lion".
Big "cat-like" footprints were also found at the site, said police.
The police spokesman said: "During the course of the night several further calls were received reporting recent sightings of a lion in the area.
"Public safety is our priority which is why we took the sighting and all associated evidence seriously and officers were deployed."
Gill Atkin, who was on holiday in St Osyth with her husband Steve, took a photograph of the animal when they spotted it.
They maintain what they saw was not a domestic cat.