Colchester Facebook party death: Event 'invitation-only'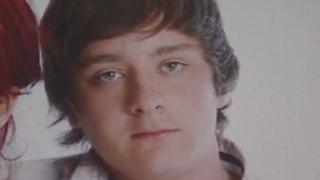 A house party organised through Facebook at which a 17-year-old boy was fatally stabbed was invitation-only, it has emerged.
Jay Whiston, a 17-year-old A-level student from the Clacton area, died after he was stabbed in Marlowe Way, Colchester, on Saturday night.
Four people have been arrested in connection with the death.
Paul and Jeannette Gathercole, whose house was used for the party, said it had been invitation-only.
They said the party had been organised by their daughter to celebrate the end of the summer holidays. Police said more than 100 people attended.
'Heart-wrenching'
Mr and Mrs Gathercole, who were supervising the party, told how all of the teenagers who had attended knew which parts of the house they could use and which parts they could not.
All of those who had been invited had respected the rules, the couple said.
They said they had been in contact with Jay's parents since his death.
Two 18-year-old men and two 17-year-old boys, all from Colchester, are being questioned by officers at separate police stations in north Essex.
A provisional post-mortem examination showed Jay, a student at the Tendring Technology College, died from a stab wound. Police have confirmed they believe a knife was used in the killing.
The death has shocked the community living in and around Marlowe Way.
Sarah Wuyts, who has two teenage sons and who knows other parents whose children were at the party on Saturday, said: "I feel as a mother, it is really heart-wrenching."
Police said every teenager at the party in Marlowe Way was a potential key witness.