Murderer Martin Bunch 'said he was a danger', family claims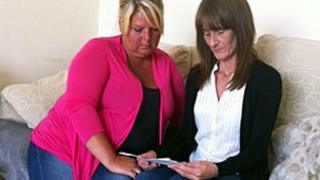 A man who stabbed his ex-lover to death warned a psychiatrist he was "a danger to himself and to others" weeks before committing the crime, his family said.
Martin Bunch, 44, murdered Jeanette Goodwin, 47, in front of her husband at her home in Southend on 24 July 2011.
He was jailed for life with a minimum term of 27 years after he was convicted at Chelmsford Crown Court last month.
Mental health trust SEPT says Bunch's "limited contact" with it played "no part whatsoever" in the murder.
Bunch, of Southchurch Road in Southend, and Mrs Goodwin had had an affair for a number of years which was ended by her.
After the relationship ended, Mrs Goodwin complained to police about Bunch's repeated efforts to contact her.
He was arrested and charged with harassment but released on bail by magistrates.
'Violently shaking'
On 14 July last year he was arrested for removing his electronic tag but magistrates renewed his bail on 20 July. Mrs Goodwin was stabbed about 30 times in front of her husband Mark four days later.
Bunch's sister Sam Edge told how after one incident earlier in that month, the family had taken him to see a psychiatrist when he pleaded for help.
"He arrived at my sister's house in an awful state," she said. "He was violently shaking and he finally said to me 'I do need medical help, I do need mental health help', he said 'please get me help'."
Mrs Edge took her brother to see a psychiatrist on 11 July. She said she was present at the session during which her brother told the psychiatrist he felt he was a danger to himself and others.
"I've never witnessed anybody in such a desperate state as my brother that morning," she said.
"We all knew how mentally ill he was," she said. "He was a completely different man that day. I just wish things could have been different."
Internal review
His family said he received treatment for depression and alcohol abuse. But according to his former partner, Paula Hayes, he should have had more help.
"I would have liked for him to be put in a hospital setting," said Ms Hayes, Bunch's partner of 24 years. Ms Hayes told how Bunch had suffered a string of personal family tragedies which led to him turning increasingly to drink.
South Essex Partnership University NHS Foundation Trust (SEPT) said an internal review of the case found Bunch's "limited contact with mental health services" played no part in the incident.
The trust said: "After such incidents, the matter must be considered first by the criminal justice system to decide whether criminal proceedings are required and, after any criminal investigation has concluded, by the NHS to decide whether an independent review of care provided is required.
"NHS East of England Strategic Health Authority - the NHS organisation that considers whether there is a need to independently review the provision of NHS care in these cases - has informed the trust that this case does not require such an investigation."
In a letter to Bunch's family, SEPT said "there was no act or omission by any individual or individuals that would have prevented the tragic events of July 2011".
However, the trust has made five recommendations to "strengthen" the way its "clinical services are delivered" and to enable better communication between its teams in the future.
The Independent Police Complaints Commission is investigating Essex Police's contact with Mrs Goodwin and Bunch prior to the murder.
A report on the commission' s findings is expected to be published later this year.