Essex house party stabbing: Fourth murder suspect held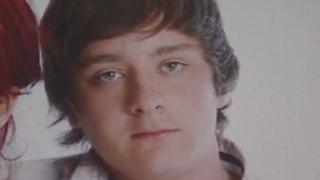 A fourth arrest has been made over the death of a 17-year-old boy who was stabbed outside a house party in Essex.
Jay Whiston, an A-level student from the Clacton area, was fatally injured in Marlowe Way, Colchester, on Saturday night.
A 17-year-old boy was arrested on suspicion of murder on Sunday evening. Three others are also being questioned.
Police said the house party had been organised via the social networking site Facebook.
A spokesman said the use of Facebook in organising the event would form part of the "background" to their investigation.
Two 18-year-old men and two 17-year-old boys, all from Colchester, are currently being questioned by officers at separate police stations in north Essex.
Mother's anger
A provisional post-mortem examination showed Jay died from a stab wound.
His mother Caroline Shearer, 46, said she believed her son was trying to protect a friend when he was attacked.
"It's every mother's worst nightmare," she said. "He was loved by everyone and so caring.
"My son had never been in trouble with the police before. He hated bullies and hated people being unfair.
"I still feel numb but I'm starting to feel angry now. How can thugs ruin innocent lives at their will? There's no rhyme nor reason to it."
She described a "dead silence" in her home and told how she still felt she was waiting for Jay to come home.
She said she was unable to throw away a pizza, left half-eaten by Jay, or put the washing machine on, because it contained one of her son's shirts.
"You just grab onto anything and everything," she said.
'Larger than life'
Jay, who studied law and business studies at Tendring Technology College, planned to go to university next year.
Caroline Haynes, head teacher at the college, said: "We've been trying to balance our own emotions as staff whilst trying to support the emotions of our students.
"As a whole community we are absolutely devastated, he was a larger than life character."
Police said every teenager at the party in Marlowe Way was a potential key witness.
Det Ch Insp Simon Parkes said: "This really is a tragic loss of life that we, but more importantly, this boy's parents have to deal with.
"This murder took place in an affluent area of Colchester and at a house party which had a garden that could cater for the 100 or so teenagers that were present."