Cat anti-freeze poisoning suspected in Essex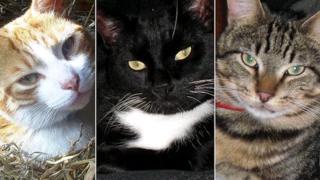 Police and the RSPCA are investigating whether 23 cats were deliberately poisoned to death with anti-freeze in Essex.
A vets surgery in Dovercourt said a large number of cats had been brought in with kidney failure since late July.
Alan Smith, a vet who treated the cats, said the symptoms were "highly-suggestive of anti-freeze poisoning".
The RSPCA has advised owners to seek immediate treatment for ill cats.
Mr Smith, who works at Kinfauns veterinary surgery, said: "Since 27 July we have had 23 cats which have either been confirmed, or been highly suspicious of, having severe kidney failure.
'Extremely worrying'
"And we have to question it, as this is a very unusual number."
Glen Brunsden, who has lost three of his cats, said he believed someone might be baiting food.
He said: "There are too many that have happened for it to be an accident.
"Someone's obviously not too keen on cats and has taken it upon themselves to poison them."
RSPCA inspector Sarah Elmly said: "Unfortunately, anti-freeze is tasty to cats, but it can cause them serious illness and can even kill.
"It is extremely worrying. We don't know if it is being done deliberately or not, but if it is, then an offence is being committed and those responsible could face prosecution."
An Essex Police spokesman confirmed the force was investigating and would pass information on to the RSPCA.