Southend robber tries to stab policeman and escapes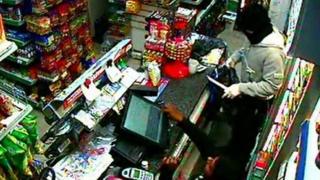 A robber at an Essex newsagents has escaped after trying to stab an officer, Essex Police said.
Two officers were called to Dolly's newsagents in Fairfax Drive, Southend at 21:17 BST.
Police said the man ran at one of the officers with a knife and he was hit with CS spray, but his face was covered by a black woollen ski mask.
He ran out of the shop and a search involving the police helicopter could not find him.
The robber failed to open the till, but did fill a black shopping bag with cigarettes.
9in blade
Det Con Luke Dangerfield said: "This was an extremely serious incident involving a man who would have stopped at nothing, even attempting to stab a police officer, to rob the store and escape.
"We want to hear from anyone who saw this man running away or from anyone who knows someone who returned home between 21:30 BST and 22:00 BST smelling of CS spray or having any burning or tingling sensations to the skin, sinus or eyes."
The police said the blade of the knife was 9in long and the robber fled in the direction of Prittlewell Brook and Westbourne Grove.
No shop staff, customers or police officers were injured in the raid.
The robber is described as being about 6ft 2in tall, of average build and he was wearing a light grey hooded top, black jogging bottoms and black trainers.