Deadly saw-scaled viper found in Essex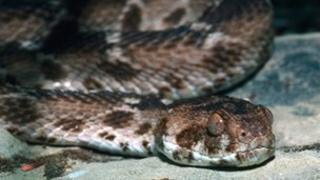 One of the world's deadliest vipers was found lurking inside a container that had passed through a port in Essex.
The 18in (45cm) saw-scaled viper was discovered on Wednesday afternoon after being delivered to a business in Essex.
The container arrived at Tilbury Port from India and had been unloaded from a ship when the snake was spotted.
Although not the world's most poisonous, the viper is seen as one of south Asia's deadliest because they are often found close to inhabited areas.
The find was reported to the South Essex Wildlife Hospital, which sent in reptile expert Steve Mitchell to recover the snake.
'Loaded gun'
Hospital founder Sue Schwar said the viper was caught using a snake loop and taken to a safe location where it is currently being looked after.
Miss Schwar said Mr Mitchell, who went to get the snake, recognised the viper straight away.
"They are dangerous," she said. "But he was able to pick it up and contain it."
She said the snake might have to be put down because wild reptiles sometimes did not respond well to living in captivity and the costs of returning it to its wild habitat in India were prohibitive.
"It is a bit like having a loaded gun," she said. "But we are going to try and find it somewhere to live in the long term."
Although the hospital has dealt with a number of other dangerous creatures, including scorpions, this was the first time they had dealt with a saw-scaled viper.
The snake is quick to bite when it feels threatened, but it is largely nocturnal and sometimes buries itself in sand.
Tilbury Port declined to comment.