Dale Farm travellers' pitch plan for Basildon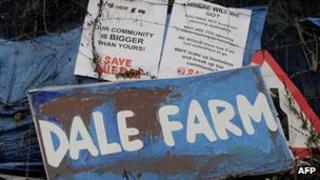 Fifteen families evicted from Dale Farm could be given a legal, permanent home under plans for a new caravan site.
The Irish Travellers Movement in Britain (ITMB) said it had submitted the planning application for pitches on a derelict site in Basildon in Essex.
Council bailiffs evicted 80 families from illegal pitches at Dale Farm, near Basildon, in October last year.
Basildon Council said it had received the application for Gardiner's Lane South.
ITMB said the permanent pitches would home "the most vulnerable families that still have nowhere to go after the eviction from the unauthorised Dale Farm traveller site".
Former residents of Dale Farm have been involved in the design, which includes a public children's play area, a community building, a site manager's office, trees, grassed areas and hedging.
ITMB hopes to make a successful bid for funding from the Homes and Communities Agency, which owns the plot of light industrial and commercial units, playing fields and vacant land.
'Severe health problems'
"About 80 homeless travellers remain camped outside the evicted Dale Farm site," a spokesman said.
"They have no running water, no electricity and no sanitation.
"Many of the travellers are vulnerable, are elderly and infirm, or with severe health problems and many are families with young children."
Michael Hargreaves, ITMB's planning and accommodation adviser, said it had consulted the council's planning department during the drafting of the application.
"This is not greenbelt land, this is unwanted land that has been vacant for many years," he said.
"If the plans are approved, it will provide a good quality site for 15 vulnerable traveller families with nowhere else to go."
Travellers illegally camped on a track near Dale Farm have been served with eviction notices by the council.
Last year's clearance of 49 illegal pitches at Dale Farm was the culmination of a 10-year battle between travellers, who bought a former scrapyard on green belt land, and the council.