Jeanette Goodwin murder: Martin Bunch jailed for life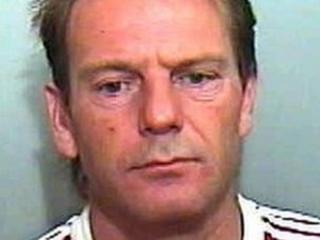 A man who murdered his ex-partner four days after appearing in court charged with harassing her has been jailed for life with a minimum term of 27 years.
Martin Bunch, 44, killed Jeanette Goodwin by stabbing her about 30 times in front of her husband at her home in Southend, Essex, on 24 July 2011.
Ten days earlier he had been arrested for removing a tag he was made to wear to prevent him approaching Mrs Goodwin.
But Bunch's bail was renewed by magistrates at a hearing on 20 July.
Bunch, of Southchurch Road, Southend, was found guilty at Chelmsford Crown Court on Tuesday of murdering 47-year-old Mrs Goodwin following a four-week trial.
The Independent Police Complaints Commission (IPCC) is investigating Essex Police's contact with Mrs Goodwin, a mother of three, before she was killed.
Mrs Goodwin had complained to police about Bunch contacting her.
He was arrested and charged with harassment but released on bail by magistrates, the trial heard.
On 14 July, he was arrested for removing his electronic tag, but magistrates renewed his bail on 20 July.
In a statement outside Chelmsford Crown Court on Friday, Mrs Goodwin's family said: "Jeanette's death could have been avoided if only the court system had taken the initial reports of violence more seriously.
"Bunch was given bail by the courts with conditions not to contact Jeanette, which he ignored, he was tagged, this did not stop him - he simply cut [the tag] off.
"He showed no regard for the courts system but, despite this, they still allowed him freedom, of which he took full advantage, and we are now paying for that, as he took Jeanette's life.
'Loathsome and disgusting'
"The criminal justice system has to change and appropriate measures must be taken to ensure criminals are locked up sooner and victims protected."
Mrs Goodwin had an affair with Bunch lasting about eight years which she ended, the court was told.
Bunch, a labourer, murdered Mrs Goodwin in a "brutal and determined attack" in front of her husband at her home in Quebec Avenue.
John Dodd QC, prosecuting, told how Mrs Goodwin had been trying to rebuild her marriage with Mark Goodwin when she was killed.
Jurors were told Mr Goodwin went to his van to find an item to protect his wife and himself with but while he was out of the house "Bunch renewed his attack" against Mrs Goodwin.
Police found Bunch holding a knife inside his mother's home in Southchurch Road 25 minutes after the murder.
Judge Charles Gratwicke, sentencing, told Bunch: "Your behaviour was loathsome and disgusting."
Det Ch Insp Simon Werrett, of Essex Police, said: "As the judge said, Bunch is wicked, callous and has shown absolutely no remorse for murdering Jeanette.
"He fully deserves the sentence."
A Judicial Office spokeswoman said decisions to grant bail were made in line with "relevant case law" and legislation.
She said bail was normally "granted in all cases, except in specific circumstances".
"It is apparent that the court formed the view that none applied based on the facts presented to it," she added.