Colchester 'noxious smell' council office: Workers return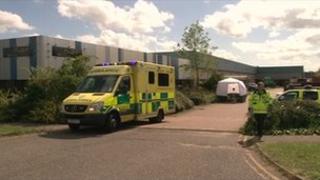 Safety inspectors have given an Essex council building a clean bill of health as investigations continue into the cause of a "noxious smell" that left three workers unwell.
About 250 people were evacuated from the Essex County Council offices in Colchester on Friday.
The Health Protection Agency (HPA) is investigating the smell and sickness.
A county council spokesman said no hazardous material or cause of illness had yet been found.
'Emergency measures'
Essex House, in The Crescent, was declared safe over the weekend and staff have now returned to work as normal.
The county council spokesman said 29 people were assessed by paramedics during the incident, with three taken to Colchester hospital with sore throats and sickness. All three have since returned home.
"Emergency measures were taken immediately with Essex House employees - including all customer service agents - evacuating the building while further investigation took place," the spokesman said.
"As well as the emergency services, the building has also been thoroughly checked by Essex County Council facility management teams before being given a clean bill of health, with facility management representatives remaining on site on Monday.
"Although no hazardous material or cause for illness was found, the county council is a responsible employer and does not regret taking every precaution to ensure the safety and wellbeing of its employees."
An HPA spokesman said it had asked for environmental health staff from Colchester Borough Council to inspect the site and report back on their findings.