Four unwell after 'noxious smell' reports in Colchester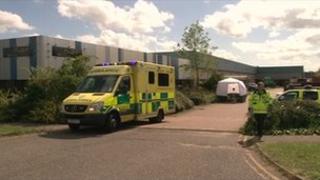 Four people have been taken ill following reports of a "noxious smell" at a council building in Essex.
A cordon was set up after workers in Essex House, on The Crescent, Colchester, reported feeling unwell at about 12:40 BST.
Paramedics assessed 25 people at the scene who did not need further treatment. Four people went to hospital with sore throats and sickness.
The cause of the incident is being investigated.
People in the area have been advised to stay indoors and keep windows shut.
A fire service spokesman said: "There is a noxious smell in the area and specialist teams have been called to ascertain exactly what is leaking."
About 250 people were evacuated from the Essex County Council building, on a business park.
A council spokesman said it had taken "emergency measures".
The fire service said it had been confirmed that the smell was not caused by a gas leak.
East of England Ambulance Service spokesman Gary Sanderson said: "At present our crews are working alongside their blue light colleagues to ascertain exactly what is going on."