Deal struck over sale of Coryton oil refinery site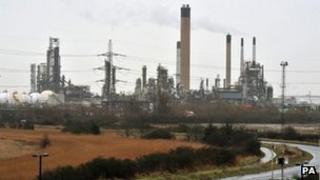 Hundreds of job losses have been confirmed in a deal that will see one of the UK's biggest oil refineries become a storage depot.
Administrators PwC said the site in Coryton, Essex, would become an "import terminal" for petrol and diesel.
The site will be operated by Royal Vopak, Greenergy and Shell UK, PwC said.
Steven Pearson, of PwC, said the closure would see the "majority" of the 500 Coryton employees made redundant.
The plant, which previously supplied 20% of fuel in London and the South East, ceased production earlier this month.
'Devastating blow'
About 350 contractors also worked on the site, which was placed into administration by its Swiss owner Petroplus in January.
Mr Pearson, the joint administrator, said: "We have been able to obtain the highest price by selling the site for an alternative use.
"We recognise that the closure results in the redundancy of the majority of the employees at Coryton and we intend to work with the local agencies and authorities to provide assistance during this difficult time.
"We now have to spend the coming weeks and months completing the removal of the remaining oil and ensuring that the closure programme is safely managed ahead of the sale of the assets to the joint venture partners."
Richard Howitt, Labour MEP for the East of England, said: "This is a devastating final blow for the workers and their families in Coryton and represents the loss of hundreds of skilled jobs and of strategic oil refining capacity in the UK."
'Huge economic consequences'
Linda McCulloch, national officer of the Unite union, said it was "devastating news" for the workers.
"This will have huge economic consequences, not just in the region, but on the UK economy and will undermine the refining industry," she added.
The Department for Energy and Climate Change rejected calls to use taxpayers' money to save the plant, saying it was not in the national interest.
Energy minister Charles Hendry said: "This is very sad news for the workers at Coryton, who will be extremely disappointed that PwC has been unable to find a buyer for the site as a refinery.
"We are doing everything we can to help these skilled people to find new posts."
He said there was "some comfort" for the community with the announcement of the "state-of-the-art" terminal.