Harlow rape survivor describes life after attack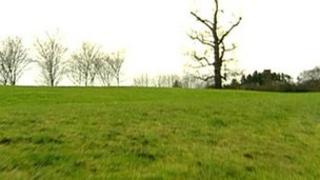 A woman who waited 15 years to see the man who raped her finally convicted has spoken out about her ordeal and how she has moved forward in her life after the attack.
The woman was aged just 15 when she was attacked while walking through Ten Metre Wood in Harlow, Essex, in December 1997.
She had been playing her saxophone in her school's Christmas concert and was walking to her boyfriend's house where her mother would collect her.
Speaking to BBC Essex following the conviction and jailing for eight-and-a-half years of 34-year-old Jon Molt, from Rushes Mead, Harlow, at Chelmsford Crown Court, she described the events that followed.
"I thought I heard a jogger behind me. The next thing I knew I was hit around the back of the head. I turned around and it was someone with a stocking over their face.
"At first I thought it might be a friend playing a joke on me. It clearly wasn't.
"I've tried not to think about it very much in the 15 years since, but I was... there's no other way of saying it, is there? So, I was raped.
Successful career
"He said he would kill me. I fought back, a little bit at the start, but after he said he would kill me I stopped fighting."
Following the attack, police were called and an investigation began, ultimately leading to the arrest of Molt in January 2012.
The breakthrough came when Molt's father gave a DNA sample to police and a "familial match" was made to samples taken at the time.
Going back to school after the attack was a turning point for the then teenager: "I needed to get back in to a normal sort of life. I remember the first day going in, just being sort of terrified. I walked in to my form room, and the whole class was silent and looked at me.
"And then one girl, I didn't even know her that well, she just started talking to me... and somehow that made everyone relax and from that point onwards it was fine. She'll know who she is and I'm still grateful to her for that."
In the years that followed, the woman married and has a successful career in science but she said, at times, she has had difficulty imagining good things happening.
"One thing that you feel like when you've been through an attack like this is that you had no choice, you had no control.
"The choice to not let it affect me is my way of pushing back on that, that I am in control of this."
She said of her attacker: "I can't pretend to understand how his mind works.
"I don't understand how someone can do this and then just carry on with a completely normal life."
She urged other people who had been through similar ordeals to report it to the police "because they will believe you and will support you every step of the way".
"Even if they don't get a conviction or have a suspect in six months or a year, that doesn't mean they've stopped working on it.
"They review these cases, so they do keep working on it... If it's happened to you come forward and give your evidence because you can't leave people who do this out there to do it again."