Sparks Will Fly Essex Olympic cultural festival begins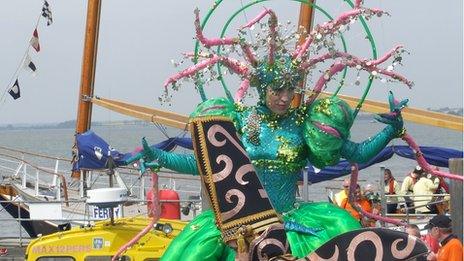 A cultural festival to mark the countdown to the Olympic and Paralympic games has begun in Essex.
Sparks Will Fly consists of 15 events in towns around the county and culminates at the overnight stop for the Olympic torch relay in Chelmsford.
The centre piece of the festival are two mythical giants, played by actors, who will visit each town before meeting for a "battle".
The festival began with the arrival of one of the characters in Harwich.
It has been organised by Essex County Council, Chelmsford Borough Council and Arts Council England.
It involves local artists, theatre and cultural organisations.
The two giants, Marina Mightier and Boreas Zephyr, will travel separately to different towns, where they will collect glass beads designed to represent each area.
They will then come together to do "battle" using the beads at Hylands Park, Chelmsford, on 6 July.
Marina Mightier started her journey when she arrived by boat to Ha'Penny in Harwich.
Boreas Zephyr will begin his journey from Stansted Airport on 22 May.
Organisers predict more than 100,000 people will attend the various events.
The festival has been timed to coincide with the start of the torch relay in the UK and is part of the national London 2012 Festival cultural Olympiad.
Related Internet Links
The BBC is not responsible for the content of external sites.