Essex firefighter union to ballot on strike action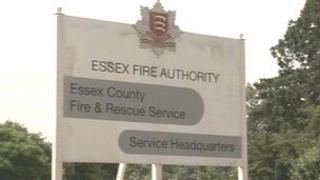 Firefighters in Essex are to be balloted on strike action in protest over job cuts and changes.
The Fire Brigades Union in the county said members would vote on taking industrial action after what it called a lack of negotiation or agreement.
It said no action could take place until seven days after the ballot closed on 13 June.
Deputy chief fire officer Adam Eckley said he was "disappointed but somewhat confused" by the announcement.
FBU brigade secretary Mick Rogers said it had proposed third party assistance to resolve its dispute with Essex County Fire and Rescue Service (ECFRS).
"But cuts and imposition of changes have left us with no alternative to start balloting for strike action," he said.
'Robust plans'
"I would urge the fire authority to respond positively to our proposals to broker an agreement using the nationally-agreed procedures, rather than ploughing on regardless."
He added the timetable for ballots allowed time for the issues to be resolved and that strike action was "some way off".
In response, Mr Eckley, of ECFRS, said: "We are disappointed but somewhat confused by the FBU's latest statement regarding ballot for strike action.
"Only last week they attacked the chief fire officer for daring to suggest that such a ballot was on the cards, inferring that they preferred a conciliatory route of bringing in third party mediators."
He added that until it received official notification of the ballot, the service would be unable to comment further.
Chief fire officer Andrew Johnson has previously stated there were "robust plans in place to maintain all emergency services should crews decide to walk out".