Dale Farm: Basildon Council considers legal action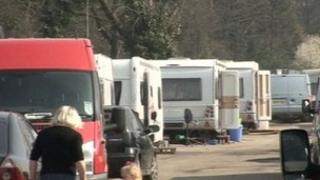 Enforcement action could be taken against travellers whose caravans are parked illegally near the Dale Farm site in Essex.
Basildon Council served warning notices to families parked illegally on a track near Dale Farm and nearby Oak Lane travellers' site in March.
The notice, which ended on Wednesday, gave them 21 days to leave the area.
A Basildon Council spokesman said it was now considering legal and planning action to enforce their removal.
"There are still a large number of caravans on the side of the road," he said.
"We are now actively considering all options very carefully with our legal team. We just need to consider whether we go down the judicial or planning route.
"Enforcement of planning law is absolutely an option."
'Taxpayers' interests'
Work to shut down illegal settlements on Dale Farm, the UK's largest illegal travellers' site, resulted in violent clashes in November.
About 80 families were evicted from the six-acre site after a decade-long planning row over the settlement, some of which was on green belt land.
Basildon Council spent £4.8m on the clearance and said £1.6m was used to contest a series of injunctions brought by the travellers.
The council served about 50 planning contravention notices to caravans parked illegally on both the Oak Lane site and the track leading to Dale Farm in March.
"We will now consider all the factors to make what is the most appropriate decision in the interest of the local taxpayers," the spokesman said.