Frinton-on-Sea old railway crossing gates get new home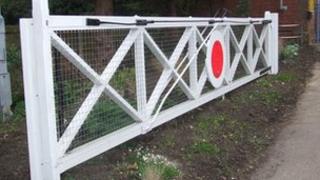 A pair of old railway crossing gates that were once synonymous with an Essex resort have been given a new home.
The manned metal gates in Frinton-on-Sea, which feature on the town's emblem, were replaced with automatic ones by Network Rail in 2009.
They have now been relocated to a site within the railway station gardens.
The Frinton and Walton Heritage Trust (FWHT) will officially unveil the new home with a ceremonial "final closing" of the gates on Monday.
A set of gates, manned by a crossing keeper, straddled the main road into the town from the late 1800s.
Their removal in 2009 was met with opposition from some locals.
'Iconic gates'
Rachel Baldwin, of the FWHT, said because of their location, they effectively marked the entrance to the town, and were seen as a divide between the town and the rest of the world.
"The gates are iconic. Frinton's had gates for virtually as long as it's been a town," she said.
"Frinton is effectively a triangular town and is bordered on three sides by the sea, the railway line and the marshes.
"So going through the gates was the main way to get into Frinton. The whole town revolves around trains."
Mrs Baldwin added as a result, an "inside the gates, outside the gates" attitude developed.
Following the removal of the gates in 2009, they were held in storage by FWHT.
It has since spent "several thousands of pounds" to get them to their new location.
Mrs Baldwin said: "The trust felt it was really important they stayed within the context of the station at the entrance to Frinton.
"It's very important they're here."
To mark their new home, the gates will be officially "shut" for the last time by the grandson of the last gatekeeper.