Naked golf world record to be attempted in Southend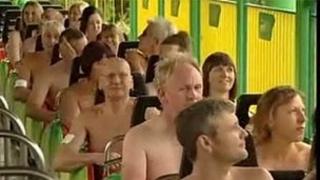 A world record attempt for the most naked people playing mini golf in one hour is to be held at an Essex resort.
The bare-bottomed bid to claim the as-yet unset record will be held at Adventure Island in Southend on Sunday.
More than 30 people are expected to strip off for the event, which has been organised to raise awareness for The Prostate Cancer Charity.
The venue already holds the world record for the most naked people on a theme park ride.
Philip Miller, owner of Adventure Island, said: "I'm sure it's going to bring a whole new meaning to several golfing terms.
"But you don't need to be a golf buff to take part - we just want people in the buff."
Essex is no stranger to nude record bids.
In 2010, 102 people carefully strapped themselves into the theme park's Green Scream to break the world record for the most naked people to ride a roller coaster.
The same year, 208 men in Clacton set the benchmark for the largest simultaneous self-check for testicular cancer.
Mark Bishop, director of fundraising at The Prostate Cancer Charity, said: "Dare I say it we are really looking forward to seeing the pictures from this world record attempt.
"Let's hope the weather on the day is kind to everyone who is going to be such a great sport."