Dale Farm: Basildon Council issues families warning notices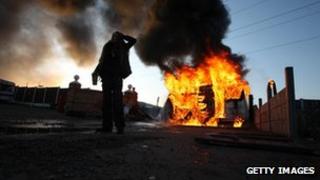 Families whose caravans are illegally parked on a track leading to the Dale Farm travellers' site have been served notices warning them to leave.
Basildon Council, in Essex, said the families had 21 days to respond and could face enforcement action.
The planning contravention notices were also issued to owners of caravans pitched on an overcrowded section of the neighbouring Oak Lane site.
The council issued more than 50 notices in total.
'Disruptive civil disobedience'
A spokesman for the council said: "We served 20 notices and a letter to caravans on the roadside.
"We served notices and a letter to all 34 pitches on the legal Oak Lane site. However, only around a third of the pitches are in breach of the conditions.
"The relevant traveller families now have 21 days to respond to the notices and leave the area.
"If they do not, the council will consider the most appropriate action to take to ensure compliance with the law."
Work to shut down the UK's largest illegal travellers' settlement, which resulted in violent clashes, was completed in November.
Tony Ball, leader of the Conservative-controlled council, said: "The travellers should not be where they are, they are breaking the law and I hope they will now see sense and move away.
Multi-million pound cost
"I find it frustrating that having cleared the illegal Dale Farm site last year, what appears to be a small minority of the original residents are persisting with this dangerous and disruptive civil disobedience.
"It is also apparent to us that many of those who are there illegally are new to the area and have nothing to do with the original Dale Farm settlement."
Basildon Council spent £4.8m on the clearance, while Essex Police spent a further £2.3m.
The authority said £1.6m was used to contest a series of injunctions brought by the travellers.
Mr Ball said: "I just wish that the travellers would realise that they must obey the law at all times and not only when it appears to suit them such as when they challenged us in court last year and lost and then subsequently continued to break the law."
An estimated 80 families were evicted from the six-acre site following a decade-long planning row over the settlement, some of which was on green belt land.