Chelmsfordians react to city status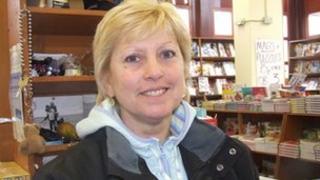 People in Chelmsford said they hoped being given city status would have a positive impact on its economy.
The Essex town was one of three locations to be awarded the status as part of the Queen's Diamond Jubilee.
It will become the first city in the county. Colchester and Southend had also put in bids.
Market trader Mandy Beckwith, 52, said: "It's nice to be recognised as a city. Hopefully it will do more for tourism and for trade, which we could do with."
She added: "It's gone very quiet recently. We've had trouble this year with the [High Chelmer] car park having to close, so a lot of the traders are still suffering from that.
"So if we can get in more tourism and bring in some more trade, that would be really good."
Other people said they also hoped Chelmsford would see benefits beyond it just having a new title.
Chris Henton, 46, estate agent
"It's already a good place to be.
"City status will just be the icing on the cake.
"It's good news, I know it's something they've been trying for for a number of years.
"Chelmsford has progressed massively over the past 10 years or so and I think it is recognition of that.
"Certainly I think it's going to be helpful for businesses and for the housing around here as well.
"It will increase the demand with people looking to move into a city."
John Cole, 63, market trader
"It's absolutely brilliant if it brings people in.
"If the council do something constructive as a city, then that's brilliant, but they've got a lot of work to do.
"We need a boost because the rates are too high for everybody and that's why a few people are closing down and packing up."
Karen Potts, 43, minibus driver
"It's cool.
"I think Chelmsford deserves it for how they're building and improving everything, so good on them.
"It's something positive.
"There's too much negative at the moment, so it's a positive thing."
John Rogers, 79, retired
"I think it's wonderful, it's about time.
"But I sincerely hope the town gets tidied up, the rubbish cleared off the streets and generally make the place look like it's worth it.
"A lot of people probably thought it was a city because we have a football team called Chelmsford City.
"I think it should help it be more attractive to visitors, it's like waving a flag really."