Attacked footballer Nicky Morgan gets hospital release date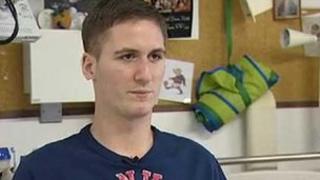 A non-league footballer who was badly injured in an attack outside a nightclub has been told he can leave hospital at the end of May.
Billericay Town goalkeeper Nicky Morgan was initially left paralysed from the shoulders down following the fight in Brentwood in October.
He is undergoing rehabilitation in Buckinghamshire and is now able to walk with the aid of a walking frame.
The 26-year-old said he would be discharged from hospital on 30 May.
Mr Morgan spent several months at Queen's Hospital in Romford, after the incident outside the Sugar Hut club on 28 October.
In December he was transferred to the National Spinal Injuries Centre at Stoke Mandeville Hospital to begin his rehabilitation.
'Unbelievable' recovery
His brother, Ben, said the news of his discharge had been a huge boost to the whole family.
"He's doing amazingly well. He's really come on in leaps and bounds in the last few weeks especially," Mr Morgan said.
"He's really positive and in a good frame of mind. So it's looking really good."
Mr Morgan described his brother's progress in recent weeks as "crazy".
He said: "They'll say to him 'in two weeks time we want you to walk up this hill with the zimmer frame' and he does it in the same afternoon.
"The guy is unbelievable."
Nicky Morgan will continue to make regular trips to hospital for rehabilitation following his discharge.
He has also been made an offer by the Professional Footballers Association to go to the Sports Injury Rehab Centre at Lilleshall, Shropshire.
A 33-year-old man from Sittingbourne was arrested and released on conditional bail on suspicion of causing grievous bodily harm in December.