Southend Pier to partially reopen at weekends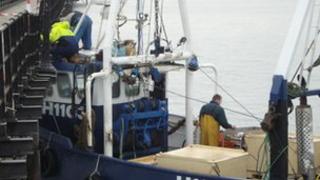 An Essex pleasure pier which was forced to close after being struck by a fishing vessel is to partially reopen.
Southend Pier was hit by the local fishing trawler on 17 February, damaging a section of its walkway.
Southend Borough Council said completion of emergency repairs meant the walkway could reopen to pedestrians this weekend.
It will close again on Monday, but it is hoped the pier will be accessible to the public on future weekends.
The council said work to repair damage to the attraction's railway line was ongoing and it hoped the pier would be fully open by the end of March.
The pier strike damaged two vertical support pilings, two horizontal beams and cross bracings about a quarter of a mile from shore.
Last month's incident was the 17th time the 1.3 mile (2.16km) pier, one of the longest pleasure piers in the world, had been hit by a ship.