Police used Tasers five times at Dale Farm eviction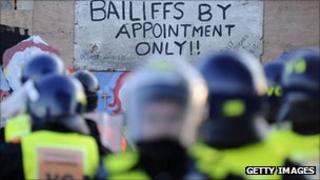 Police officers used Tasers five times during the operation to clear the Dale Farm travellers' site in Essex.
The Essex Police report also said 15 officers were injured and 45 people arrested during the eviction at land near Crays Hill in October last year.
A total of £2.4m was spent on police involvement, which saw about 80 families evicted from the site.
One man was shot twice by Tasers. In three other incidents victims were targeted but they were not fired.
The report said seven officers were given Tasers during the main operation to help Basildon Council clear the UK's largest illegal travellers' site.
Two were fired against the same man who wielded a plank of wood with a nail driven through it at officers, it said.
Missiles thrown
In a statement, Essex Police said: "Taser was used during an isolated incident on one man by officers who were faced with a serious level of violence.
"Officers reacted and used their personal protective equipment to prevent further attack.
"The man then disappeared into the crowd.
"It was not used to quell protest or as a crowd control technique."
The report claimed missiles of wood, brick and concrete were thrown at officers during the operation to enter the site.
One officer suffered a cut to his neck and bruising to his shoulders when he was assaulted by an unknown man with a lump of wood with exposed nails, the report said.
Another officer was bruised on his legs and back after being punched, kicked and hit by bricks and other masonry.
Michelle Sheridan, 22, a Dale Farm resident who was at the site on the day of the eviction, said officers should not have used Tasers against peaceful protesters.
Complaints
"The police were wrong to come onto our site and use Tasers against the travelling community," she said.
"We have been here for 10 years peacefully, they didn't need to come on with that much force."
Essex Police said it received 41 messages of support and 34 "negative contacts" following the clearance.
Of those, two are being investigated as complaints.
A spokeswoman for Essex Police said the complaints related to allegations of use of police force and retention of property during arrest.
A third complaint was received from a member of the public who was not satisfied with how their call to Essex Police in respect of Dale Farm was handled, the spokeswoman said.
The matter was resolved after being investigated by the force's communications department and the call taker was given words of advice, she added.