Southend Airport's £10m passenger terminal officially opened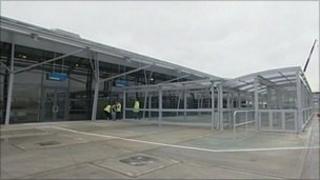 A new passenger terminal at Southend Airport has been officially opened by transport secretary Justine Greening.
The £10m building at the Essex airport is the latest expansion by its owners, the Stobart Group, which is aiming for 20 million passengers by 2020.
A new control tower and railway station has previously opened and its runway is currently being extended.
Ms Greening said regional airports such as Southend had a "vital part to play" in the UK aviation industry.
"The current debate on the future of aviation in our country as a whole has focused on hubs such as Heathrow and Gatwick," Ms Greening said.
£100m investment
"Our regional airports have an absolutely vital part to play in making sure the aviation sector remains competitive and continues to serve businesses and the community."
The new terminal is part of a £100m investment and was used by passengers for the first time last week.
Prior to the Stobart Group buying it in 2008, the airport was used mainly by local pilots and a small number of passenger flights.
Airport manager director Alastair Welch said: "We are never going to be Heathrow and we don't want to be.
"We never want passengers to spend more than four minutes at security or take longer than 15 minutes from aircraft to station platform."
Budget airline Easyjet will begin flying from the Essex airport from April.