Damage at fire-hit Tilbury power station to be assessed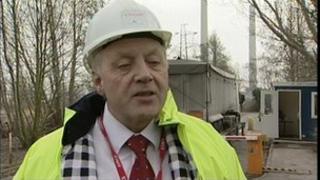 The manager of an Essex power station hit by fire has said the extent of the damage is still being assessed.
The blaze at Tilbury power station started on Monday morning and was brought under control by the afternoon.
Firefighters are still at the plant, using foam to cover embers while fuel is taken from the site.
Nigel Staves, manager of the power station, said staff would work closely with investigators to find the cause of the fire.
"The past couple of days have been very difficult for the Tilbury Power Station team and I would like to take this opportunity to pass on our collective thanks for the support we have received from the local community," he said.
Mr Staves said all workers at the plant were evacuated as quickly as possible after the fire broke out and the station was shut down in a "timely and safe manner".
"Over the coming days, we will continue to work closely with the fire service to determine the cause of the incident and review the extent of the damage to the station," he added.